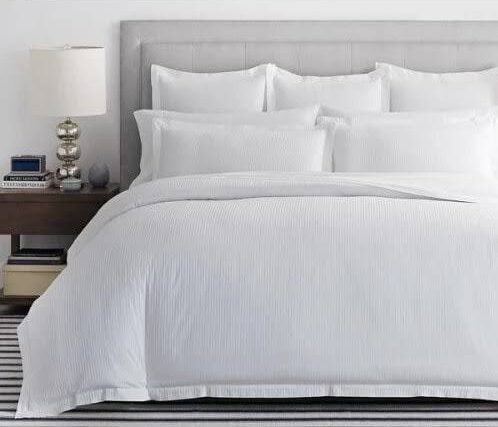 The quality of your Duvets and Pillows, as well as how well you care for them, will determine how long they endure. We've gathered some simple tips on how to care for your duvets and pillows so they last a long time.
Duvets and pillows should be shaken every day to keep the filling at its best density and flexibility.Vacuuming your duvets may cause the filling to get damaged.If you cover your bed with a blanket, make sure to pat down your duvet and pillows to prevent moisture from filling the air holes. You can tumble-dry your duvet and pillows for a few hours to help the filling stand up again. Consider using a couple of tennis balls or "dryer balls." This will restore the lightness and airiness of the filling.
When you wash your duvet and pillows, you are extending the life of your bedding. The down and feathers will gradually clump together, making the duvet appear thinner and lowering the filling strength. The filling strength of the duvet can be maintained by washing it at least once a year, ideally twice, but no more than four times a year. Washing the duvet too frequently might lead to premature wear and tear. Pillows should be washed twice a year, according to our recommendations. Wash your duvet and pillows at 60°C to kill any dust mites that can't survive at that temperature.
Set aside plenty of time for this washing project to begin. A duvet can take 6-8 hours to wash and dry. In addition, the duvet and pillows should always be washed according to the manufacturer's instructions.
Before you start washing, make sure there are no holes in any of the seams. Your duvet and pillow should be washed separately in a big washing machine. For duvets and pillows with natural fillings, use an enzyme-free detergent, as regular detergent contains enzymes that degrade the properties of feathers and down by eliminating their natural fat.
Often, a wool-washing detergent will suffice. Duvets with fibre-fill should be washed with normal detergent.Finish with a little centrifugation after washing at 60 degrees Celsius. Dry the duvet/pillow with two or three tennis balls (also known as dryer balls) in the dryer. To minimize lumps and make the duvet/pillow airy, use tennis balls to spread the filling evenly.
During the drying process, remove the duvet from the dryer and shake it every 15-20 minutes. This keeps the feathers and down from sticking together and the drier from leaving burn marks.
Allow the duvet to dry completely before reusing it. If you partially dry the duvet/pillow outside, keep it out of direct sunshine to avoid tenderizing the fabric and causing holes. When the quilt is completely dry, we recommend airing it outside or tumble-drying it in the dryer with cold air. This ensures that feathers and down are distributed evenly. You can weigh the duvet before washing it if you want to be sure it's entirely dry. You should weigh the duvet again when it has dried. If the duvet weights more than it did before, there is still water within, and it should be dried again.
Foam is not washable. Some covers, however, can be washed. If you need to clean a foam cushion, use a moist towel to wipe it lightly. Please do not absorb the foam entirely and wipe it clean with a dry cloth as soon as possible.
If your pillow is filled with latex, it can be washed in a full machine and centrifuged at 1000 rpm. It needs to be tumble dried after that. At all times, the cushion should be kept in the cover.
When to replace your pillow or duvet
When you should replace your duvet or pillow depends on a number of factors. Depending on wear and tear, we recommend replacing your duvet every 5-10 years. However, because you wear your pillow more than your duvet, it only lasts around two years.
Here's some basic guidance on determining whether or not it's time for a new pillow or duvet:
If your pillow was white when you got it and is now yellow, it may be time for a replacement.
If you sweat a lot at night, it's a good idea to change your pillow and duvet more frequently.
If your pillow or duvet is still flat after drying and the filling is clumpy, it's time to replace it. Avoire Voltic… Making hospitality better.